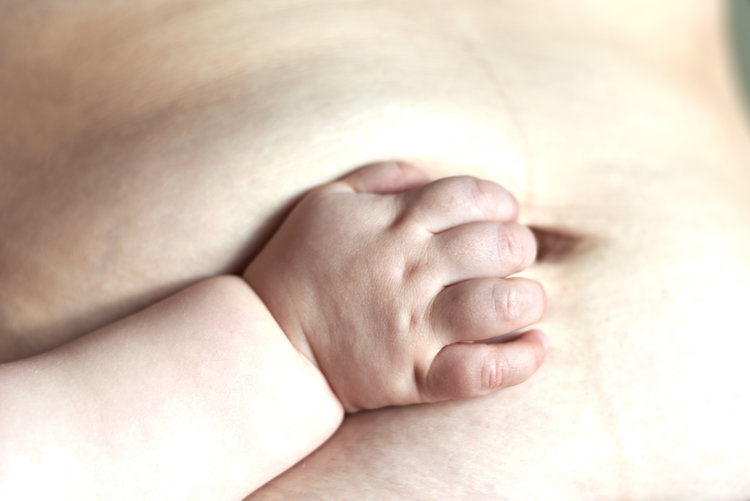 SnapBack photos make it look a woman can have a baby and leave the hospital in her pre-baby jeans. In reality, it takes weeks just for a woman's uterus to shrink back to its original size. A woman's breast size can also change significantly, and it may take time to pee out extra fluid your body might hold on to after pregnancy. Being tired and stressed makes comfort food important and appealing. So first, give yourself a break. Your body just made another person! Wear loose and comfortable clothes. Drink plenty of water.
You may experience hot and cold flashes as your body adjusts its levels of hormones and shifts fluids. Some women might have night sweats. You might also have more body odor and acne. These are annoying but a sign of recovery. The blotchy appearance of the face and dark line of the lower abdomen will gradually disappear over the next several months.
Some women experience eye hemorrhages – bleeding beneath the "whites" of the eyes. This can happen because of the forceful bearing down some people experience during labor and birth. It is not harmful to you and clears up by itself in a few weeks.
The research on postpartum hair loss isn't clear. Some findings suggests that this may be a popular myth while other studies suggest that up to 18% of women report hair loss. It is thought that during pregnancy, hair was in a growth phase and therefore didn't shed as it normally does. A few months postpartum, women may find that you are losing large amounts of hair. Your hair will soon return to its normal growth cycle, but it may take a few months.
What about the varicose veins, stretch marks, extra skin, different hair texture and different shoe size? Women are often left with different "badges of courage" after having a baby. Stretch marks will gradually fade to silvery lines but will not disappear altogether. Usually veins improve without treatment. Later varicose vein surgery can help address painful leg veins but isn't recommended during the first 6 months of recovery. We wish we could make it all go away but since we can't we need to find ways to embrace the power and beauty of our bodies as mothers.
Things to do that might help
Embrace your inner teenager and wear extra deodorant and wash your face daily – consider getting some soaps or cream to help with acne.
Check out the 4th Trimester Bodies Project for inspiring pictures of women claiming and reclaiming their strength and beauty as new moms.
It will take several months for your body to readjust. The time it takes women to return to their original weight is different for everyone. When you're ready, check out the Staying Well section of the site for tips on healthy lifestyles.